2914 Main Street
Santa Monica, CA 90405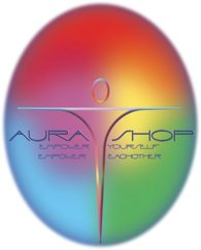 ---
GBC 2017-19
Aura Shop is dedicated to empowering clients and community - local and global.
Green Certified since 2008, Aura Shop is a resource center for self-awareness and self-empowerment, providing tools and services to balance physical, mental, emotional and spiritual energy. Aura Shop is a One-Stop-Shop for metaphysical tools such as crystals, gemstone jewelry, ascension-energy therapy and supplements. They also provide onsite energy practitioners trained in various healing therapies like reiki, theta healing, sound therapy, aura and chakra readings and much, much more!
Aura Shop helps heal and protect the earth by purchasing 100% post-consumer content recycled paper towels, unbleached paper bags for store purchases and printing paper. They put the R in reduce by having staff ask customers if they need a bag – instead of automatically bagging purchased goods. After Aura Shop invested over $2,500 in LED lighting technology and participated in an Energy Coalition's Free-Tune up program, their energy bill went down $100 per month. So if we do the math, their upgrade investment was recouped in about 2 years. Refrigerators, selling naturally energizing beverages, are Energy Star rated. They stock natural cleaners like vinegar & water for windows, and use long-lasting concentrated natural cleaners, such as Thieves, that are diluted with water. Way to help heal the earth Aura Shop!