1149 3rd St., Ste 100
Santa Monica, CA 90402
(310) 709-1144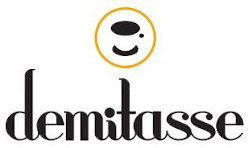 ---
GBC 2019-2022
Café Demitasse staff call themselves coffee geeks that tinker with roasts, brew methods and ingredients to come up tasty coffees and unique drinks. As stewards of the planet, they also tinker with sustainable procurement to best reduce waste, from their purchasing choices to their brew methods and logistics.
Demitasse prides itself on its ethically sourced, direct-trade coffee. By visiting the farms from where they source green coffee, they know that both the land and the people are being taken care of by the producers from whom they buy.
In line with Santa Monica's Sustainable Food Commitment, non-dairy oat and almond milk are available. Their organic dairy milk is from Strauss Farms – who consider humane treatment of animals as a fundamental principle of their production. Demitasse also develops relationships with other small, local, quality- focused businesses to support the local economy.
Demitasse has pushed very hard to eliminate single use waste in their business. Adhering to Santa Monica's Santa Monica's Disposable Food Service Ware Ordinance, they changed many things in the cafe such as replacing plastic lid plugs with stickers and wooden stir sticks for reusable metal coffee stirrers. Demitasse further eliminated waste in and around the café by replacing their disposable coffee delivery bags with reusable ones, to getting rid of single-use sugar packets. Read all about it on their blog here: https://cafedemitasse.com/pages/commitment-to-reducing-waste
For cleaning, Demitasse reuses cotton cloths. Their janitorial paper products, such as paper hand towels and toilet tissue, are non-chlorine bleached and certified by Green Seal to contain 100% post-consumer recovered materials. Some daily use cleaners are certified by US EPA Safer Choice.
Demitasse customers comment the café hires unpretentious baristas that care for the planet and brighten a day with kindness and good coffee.