1423 2nd Street, Suite B
Santa Monica, CA 90401
(310) 394-8487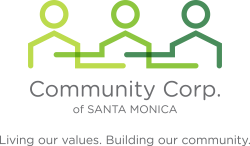 ---
GBC 2017-19
Community Corporation of Santa Monica ("Community Corp") is a non-profit organization that restores, builds, and manages affordable housing for people of modest means. Founded by community leaders in 1982, Community Corp. has pioneered the development of architecturally significant and environmentally sustainable affordable housing.
Community Corp has built or restored more than 90 properties throughout Santa Monica, creating nearly over 1,700 affordable homes and transforming the lives of more than 4,000 people every year. To conserve water in their office, Community Corp restrooms use high efficiency faucet aerators that emit only 0.5 gallons of water per minute. A GAIA atmospheric water generator supplies 8 (eight) gallons per day from air. In addition, a water filtration dispenser that refills employee containers eliminates the purchase of bottled water. Community Corp's main offices are lit with 4' LED tubes and restroom lights are set on a timer to turn off. Skylights welcome in natural sunlight. To further reduce energy use, Community Corp uses passive ventilation and cross air flow in all its new construction buildings. To help foster good indoor air quality, Community Corp uses low VOC paints throughout their office and units. Green cleaners consist of Method dish soap, and Seventh Generation multi-purpose cleaners. To reduce paper use, Community Corp E-files tenant utility bill payments, and to close the recycling loop, they purchase paper products such as napkins, facial tissue and towels made with post-consumer recycled content – which means it is made from paper disposed of in recycling bins.
In 2015 Community Corp created an interdepartmental Sustainability Committee consisting of seven staff members to track and implement company policy changes. The committee meets to ensure employee buy-in with procedural and purchasing changes implemented to minimize use of natural resources and further Community Corp's commitment to green business practices. A longtime advocate of sustainability, Community Corporation of Santa Monica won Sustainable Quality Excellence Awards in 2001, 2009 and 2015.