1423 2nd Street, Suite B
Santa Monica, CA 90401
(310) 394-8487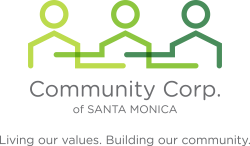 ---
GBC 2021-2024
Community Corporation of Santa Monica (Community Corp) is a non-profit organization that restores, builds, and manages affordable housing for people of modest means. Founded by community leaders in 1982, Community Corp. has pioneered the development of architecturally significant and environmentally sustainable affordable housing.
Community Corp has built or restored more than 100 properties throughout Santa Monica, creating over 1,800 affordable homes and transforming the lives of more than 4,000 people every year. Their work contributes to the distinct character of Santa Monica, making it a more inclusive, caring, and environmentally sustainable city.
Community Corp employs sustainable construction practices that divert and recycle construction waste and makes use of resilient materials that last. They pioneered the development of sustainable affordable housing, and created some of the first LEED Platinum Certified affordable buildings in the country. Their buildings employ the latest green design features – from solar panels, to draught-tolerant landscaping.
To live their values, they recently remodeled their own office to LEED Gold standards. To conserve water, Community Corp installed high efficient faucet aerators in hand sink faucets to reduce the flow to 0.5 gallons of water per minute. Employees are issued reusable water bottles for refilling. Green cleaners consist of Method dish soap, and hydrogen peroxide based disinfectants to wipe down high-touch surfaces. The staff kitchen houses a 3 compartment container for separating trash, organics and recycling. To minimize waste, all coffee fixings are purchased in bulk and they switched to a single serve coffee maker called Juro that minimizes waste – no pods or filter required.
To reducing traffic, improve air quality, and support the GoSaMo Transportation Management Organization, many employees walk, bike or use micro-mobility vehicles to perform site visits to local housing units. The new office also features operable windows and ceiling fans for more fresh air circulation, and a shower to support more bike-riding.