1631 Colorado Ave.
Santa Monica, CA 90404
(310) 780-4557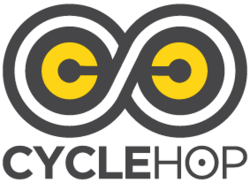 ---
GBC 2018-2021
CycleHop operates several bike share programs in cities across the USA and Canada. Bike sharing is a fun, convenient, green and affordable way to commute and explore!
CycleHop's Santa Monica headquarters established an enthusiastic and dedicated Green Team comprised of three staff members to coordinate trainings on waste reduction, recycling, environmentally-preferred purchasing, water and energy conservation. The Green Team staff created and implemented a company-wide Environmental Policy and Eco Purchasing guidelines. One of five CycleHop fleet is an electric vehicle (EV), charged onsite and cleaned with water-less solutions. CycleHop also employs the use of electric pedal-assisted bicycles for bicycle balancing. In line with their mission, they offer a competitive incentive program for employees to commute by bike, bus, train or carpool.
Striving to be a zero waste facility, in line with Santa Monica's zero waste goal by 2030, CycleHop up-cycles used bicycle tubes. Staff break area is stocked with reusable dishware, utensils, and mugs. All employees use durable water bottles that are refilled onsite. Reduce, reuse operations also include reusing crates and boxes for parts storage, and nearing a paperless office with only two reams of post-consumer content paper used annually. Notable energy conservation measures include minimal use HVAC by primarily functioning as an open air office lit by natural sunlight. They installed a programmable thermostat to ensure efficient HVAC use when it is necessary. All water fixtures installed are high-efficient, meeting Santa Monica's Water Neutrality ordinance strategy to achieve Santa Monica's goal for water self-sufficiency by 2020.