1555 2nd Street, Suite A
Santa Monica, CA 90401
(310) 656-8500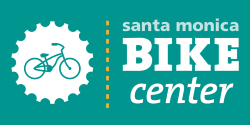 ---
GBC 2017-19
The Santa Monica Bike Center is operated by Bike and Park Santa Monica, a company with a mission to inspire people to ride bicycles for the benefit of one's health, spirit and the planet.
The Bike Center offers varying services for both locals and visitors, including a commuter cycling facility, bike maintenance and repair, bike education classes, and bike rentals. As part of the overall mission to increase environmental sustainability and bike ridership in Santa Monica, the Bike Center offers a Commuter Bike Loaner Program, which aims to support potential cyclists in the process of learning to commute by bike. This two-week, free trial equips participants with a bike, helmet, bags, lights, and guidance to find the best bike routes for their specific commute.
The Santa Monica Bike Center pedals their way to greener business operations by incorporating many sustainable measures into their daily operations. In 2014, they enrolled in Sustainable Works Green Business Program. Their commitment to only procuring non-toxic chemicals led them to discontinue Lysol Disinfectant spray for rental bike helmets, replacing it with a solution of water, white vinegar, tea tree oil and bergamot oil. They also give preference to Green Seal Certified multipurpose cleaners, sustainable office supplies, and eco-friendly bike gear made from recycled materials. Other non-toxic strides include purchasing PVC-free shower curtains, BPA-free refillable water bottles, and American-made organic cotton t-shirts. To further support their commitment to running a sustainable company, as part of their in-house Bike and Park Santa Monica Commuter Incentive Program, employees that commute by bike receive $15 per month. As such, approximately 80% of their employees commute to work by bike!