258 Santa Monica Pier
Santa Monica, CA 90401
(310) 394-9683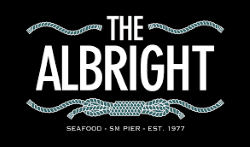 ---
GBC 2015-17
The Albright is an advocate and champion of the Santa Monica Pier's greening efforts. Most recent efforts have earned the restaurant a Green Business Certification, the first business on the Santa Monica Pier to achieve such accreditation.
Formerly known as SM Pier Seafood, "The Albright" is a nautical knot tying together two generations of a local family business. The Albright is the longest running restaurant on the Santa Monica Pier and was established by the Kim family in 1977. The family's daughter, Yunnie Kim Morena, recently took the helm of the Pier mainstay and re-invented the restaurant with a modern and sustainable flair. The Albright serves daily caught fish as well as locally-sourced and organic ingredients from the Santa Monica Farmers Market. Over 75% of the fish they serve is listed on the Monterey Bay Aquarium Seafood Watch Guide Good or Best choices list.
To help Santa Monica reach their 20% water use reduction goal by February 2016, as part of the statewide water restrictions imposed, The Albright performed retrofits on all hand sinks to reduce water flow to 0.5 gallons per minute, and provides staff education and training on sustainable practices. Santa Monica has a goal of achieving water self-sufficiency by 2020, which means meeting the City's water needs from local sources only. The Albright also completed a substantial lighting retrofit and switched to Green Seal and EPA Design for the Environment /Safer Choice approved cleaners to achieve the green certification.