1602 Ocean Ave.
Santa Monica, CA 90401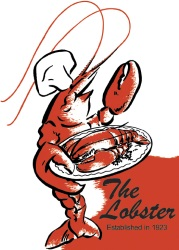 ---
GBC 2014-16
The Lobster, located at the entrance of the historic Santa Monica Pier, boasts an appealing ocean-side view and features classic American seafood. You can find Executive Chef, Colin Crannell, perusing the Wednesday Santa Monica Farmers Market for the freshest seasonal organic and local produce. 80% of The Lobster's produce is sourced locally from the Market. Guests can enjoy 180 degree views of the spectacular Pacific Ocean, accented by breathtaking sunsets.
The Lobster's Green accomplishments include installing a 9KW solar panels via Solar Santa Monica's program and phasing in LED lighting restaurant wide. The dining area also allows in ample natural sunlight through their many ocean view windows. The Lobster further reduces energy use by cooling the restaurant with fresh ocean air and cross breezes via operable windows instead of an energy intensive HVAC (heating ventilation and air conditioning) system. Air circulating fans lower the temperature in the office area. To reduce water use, public restrooms are fitted with no-flush water-free urinals and high efficiency faucet aerators on most hand sinks.
Zero waste practices include participating in Santa Monica's R3 Food Scraps collection for composting pre-consumer food waste and installing Dyson Airblade™ hand dryers in restrooms - cutting their paper towel procurement by 50%. Staff drinks water generated from a Dewpointe® atmospheric water generator located onsite.
The Lobster goes above and beyond City Transportation Management Ordinances by exceeding the required average vehicle ridership for employees with providing financial incentives for commuting using public transportation. They obtain Metro bus passes in bulk quantities so staff can purchase at a $100 discount.